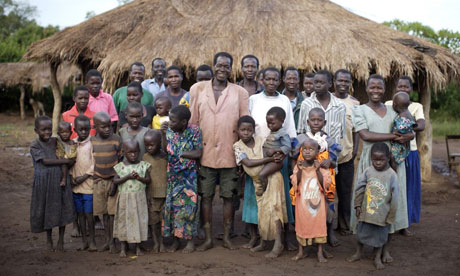 A billion people now live in Africa
. Cause for celebration or mourning?
There's a fundamental tension between population size and economic development. Too small a population and mass markets don't develop keeping the cost of goods and services higher and impeding the development of a middle class (which tends to bring social stability, stronger civil society, and other benefits). Too large a population and resource scarcity becomes a problem, along with the challenges of providing infrastructure and basic services to mega-cities.
There isn't time or space to rehearse the various views on how this tension is best managed (assuming it's something that can be 'managed' at all), but
a recent post
from the (UK) Guardian's Katine Chronicles blog caught my eye. Reporter Anne Perkins responds to Sudanese billionaire
Mo Ibrahim's assertion that Africa is underpopulated
.
Some alarming facts include that Uganda's population of 33 million will triple over the next 30 years - if you've ever been to Uganda, you have to wonder WHERE all those people could possibly go? Kampala is already dysfunctional outside the city centre in many respects, I can only shudder at the notion of a sprawling mega-city of 20 million that swallows Entebbe, and even Jinja - but that's the kind of development that's on the cards it seems.
Perkins does a nice job of highlighting the importance of demographics and citing examples from China, India and elsewhere. If you're interested in development in Africa - as every Responsible Traveller will be - it's
worth a read
.
---
Further policy wonkish reading for those really interested:
(Photo from the Katine Chronicles blog, photographer Dan Chung)